Location
There are regular flights to Bordeaux and Bergerac from Paris and London airports. Both airports are approximately 1 hours drive from Castillon La Bataille.
A fast track railway links Paris and Libourne with regular daily departures (often hourly) from Paris. Libourne is only 15 minutes from 'La Liberte' by road, and hire cars can be arranged for collection at Libourne or Bordeaux station.
There are also excellent links by road and rail to Bordeaux, Bergerac, and the many historic 'Bastide' villages of the upper reaches of the Dordogne River, including Sarlat La Canada and Rocamodour.
Directions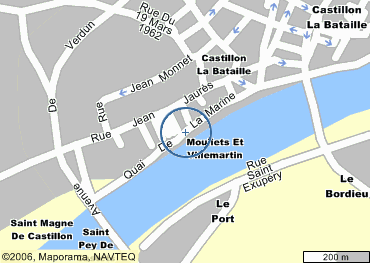 The house is easy to find, just follow the map provided.
If arriving and hiring a car in Libourne you will need to follow the D670 direction St Emillion, and from the 1st large junction or roundabout after St Emilion take the D936 in the direction of Bergerac. This road passes through Castillon La Bataille.
As you enter Castillon La Bataille from the west there will be an intersection (roundabout, at the "Le Leclerc" supermarket) at which you take the D17 south towards Pujols. Turn left one street before the steel bridge on the River Dordogne, into "Rue Jean Jaures" where there is also a sign "Centre Ville" Then turn right opposite No. 26 Rue Jean Jaures into Rue du 11 Novembre 1918, which is a cul de sac. "La Liberte" (No. 12) is easily found on the corner overlooking the river. It is between the two bridges, and the lower two levels are covered in creeper. A staircase beside the house also takes you up to the main entrance of 12 Rue du 11 Novembre 1918. The white garage door at the top also leads into the house.