Attractions
"Castillon La Bataille" is an historic town located on the banks of the Dordogne. It is renowned for being the site of the final battle of the 100 year war between France and England after which Aquitaine returned to French rule. The battle is re-enacted in July and August of each year. A tourist office is located in the centre of town.
Bicycle tours are popular in the area, with specific routes organised, and a wonderful off road track from Sauveterre to Bordeaux
"Castillon La Bataille" is also known for its numerous bars, and for wine lovers it is situated on the peaceful plateau of Libournais, surrounded by the vineyards of Bordeaux.
The area has of course been synonymous with vineyards and wine making since Roman times. Within easy reach are the famous chateaux and vineyards of Saint Emilion, Sauterne, Grave, Premiere Cote de Bordeaux and Medoc. There are numerous caves or cooperatives on your doorstep from where you can taste wine and order by the case or bottle. Chateaus in the Bordeaux region include; Chateau Margaux, Lafite-Rothschild, Latour, Mouton-Rothschild, Haut Brion, Pétrus and D'Yquem.
The Dordogne River is a major attraction by itself, and is only 20 metres from the front of the house. A major rowing and canoeing club (Rowing Club Castillonnais) is approximately 150 metres upstream, with paddling, fishing, skiing, swimming, and boules played by local villagers on the river bank all being popular.
Approximately 50 minutes away by car is the beautiful city of Bordeaux with fabulous shopping, historic architecture and numerous restaurants.
The Pyrenees are only 2.5 hours south by car, with Pamplona, San Sebastian & Bilbao in Spain only a 3.5 - 4 hour drive away.
La Liberté is a great place to base yourself, and from which day trips may be made to the historic and picturesque villages of the Dordogne, the chateaux and vineyards of Bordeaux and the South Atlantic coastal towns of Arcachon, Biarritz and St Jean de Luz. Nearby outdoor activities include water-sports such as fishing, canoeing and swimming, or you may prefer hiking, boules, or cycling.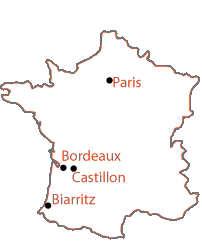 More about the region: